Fun Palaces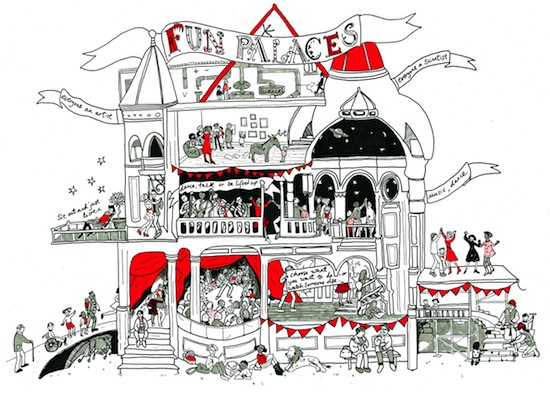 Yesterday I went to the Theatre Royal Stratford East for an inspiring open space session for Fun Palaces 2014. So what is a Fun Palace?
Based on Joan Littlewood (theatre maker) and Cedric Price's  (architect) 1961 idea. It's fun.  It's a 'university of the streets' and 'a laboratory of pleasure'.  A revolutionary venue, temporary and moveable, housing arts and sciences, welcoming children and adults, with courses in mechanics or childcare, encouraging political engagement and debate, making it possible to listen to a symphony or stare at the sky.
Yesterday was for for anyone or any company who was interested in this fantastic venture led by Stella Duffy and Sarah Jane Rawlings which aims to create a series of Fun Palaces across the UK to commemorate Joan Littlewood's centenary in October 2014. It's up to each company, each school, each University, each venue, each individual to do with it what they will, the Fun Palaces will be as varied as the locations, companies and individual artists themselves. 
Both Stella and Sarah Jane were completely wonderfully enthusiastic and inspirational - this has to work!! I really think it will - there were over 300 people there, some of whom had come from far reaches of the country, and they were equally enthusiastic and ideas were flying round the room.
I illustrated a generic Fun Palace for the meeting which was displayed on a huge screen for all to see...
Contact Stella via Twitter @stellduffy if you want to know more....